The Importance of Full-Service Dedication in Choosing a Porta Potty Provider
When a customer relies on a porta potty vendor for an event or a specific servicing schedule, it is essential to choose a dedicated provider that prioritizes timely delivery, regular servicing, and responsive support. Failure to do so can result in numerous issues, including delays, high levels of dissatisfaction, and even health and safety risks. Therefore, selecting a reliable and committed porta potty provider is crucial for the success of any event or project.
John To Go: An Unwavering Commitment To High-Level Porta Potty Service
Choosing John to Go for your porta potty rental needs guarantees a level of service that is both professional and customer-centric. With our consistent porta potty service, attentive team, and focus on quality, you can trust John to Go to provide the ideal solution for all your sanitation needs.
By consistently demonstrating an unwavering dedication to every aspect of our business, from professional porta potty rentals, to punctual delivery, and 24/7 support, we've earned our status as a preferred porta potty provider for government agencies, service companies, event planners, tourist site managers, and many other professionals and individuals who've experienced our service.
In this article, we will explore the various aspects of our business that sets us apart from competitors and puts us head and shoulders above the rest, ensuring that you feel confident signing up for quality portable rental service from John to Go:
Timely delivery and setup
At John To Go, commitment to timely delivery and setup is a cornerstone of our business. Our logistics team works closely with clients to determine the best delivery times and locations, ensuring a seamless experience with minimal disruption. We understand that punctuality is crucial for events and projects, and our efficient delivery process guarantees that porta potties are ready for use exactly when needed.
Our skilled setup crew is trained to install the units efficiently and safely, adhering to strict guidelines and best practices. This attention to detail during the setup process ensures that each unit is stable, secure, and ready for use, further demonstrating John To Go's commitment to excellence in every step of the process.
Clean and well-maintained units
We place a strong emphasis on providing clean and well-maintained porta potties for every event or project. We follow stringent cleaning protocols to ensure that each unit is thoroughly sanitized before and after use, guaranteeing a comfortable and hygienic experience for users.
Furthermore, our maintenance teams routinely inspect and repair equipment, ensuring that all porta potties remain in top working condition. By prioritizing the maintenance of porta potty units, we ensure that clients receive reliable John to Go porta potty rentals that meet or exceed industry standards.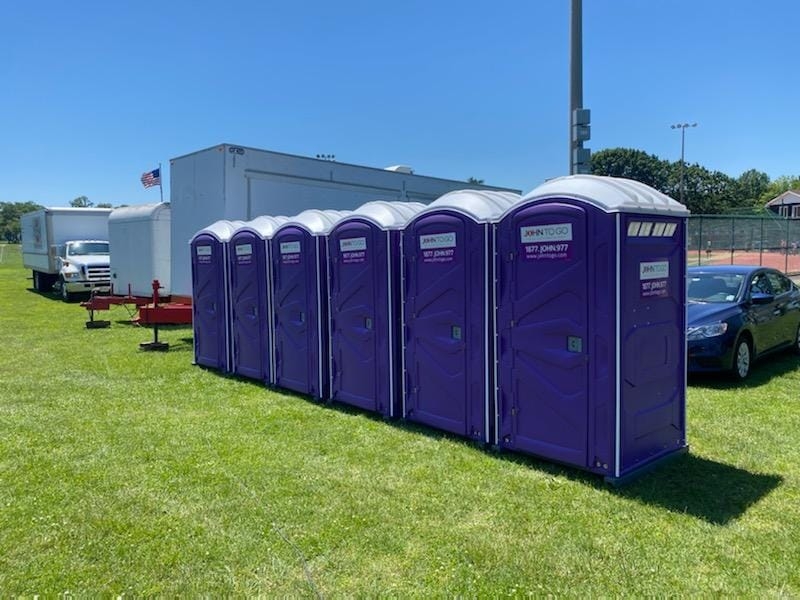 Understanding the importance of regular servicing for porta potties, John To Go offers comprehensive maintenance plans for all port a john units. This dependable John to Go service includes waste removal, replenishing supplies like toilet paper and hand sanitizer, and thorough cleaning. Our experienced service technicians work efficiently and discreetly, ensuring minimal disruption to events or projects while maintaining the highest level of cleanliness and functionality.
John To Go's commitment to consistent porta potty service not only ensures that porta potties remain clean and functional but also demonstrates dedication to client satisfaction. By proactively addressing maintenance needs, the specialized service from John to Go helps clients avoid potential issues and provides a consistently positive user experience.
John To Go recognizes that emergencies and urgent requests can occur at any time, which is why we offer round-the-clock availability to address clients' needs. In addition to our 24/7 chat service with real agents who can assist with case-specific information, our customer support and service teams are always on standby, prepared to respond quickly and efficiently to any situation that may arise. This level of responsiveness provides clients with peace of mind, knowing that they can rely on John To Go in their time of need.
Furthermore, our 24/7 availability extends to our service technicians, who are ready to provide emergency maintenance or repairs as needed. This commitment to being constantly available for clients demonstrates dedication to providing exceptional service and support.
In fact, as the sole and number one provider to some of the biggest utility companies in the country, we've proven our ability to meet even the most stringent demands of major clients, regardless of the hour. With contracts that mandate delivery within 2 hours of a call, regardless of the time of day, we have an impressive track record of consistently fulfilling these requirements, which has resulted in our retaining these partnerships for over 12 years in a row.
We are committed to providing clients with clear and upfront pricing, allowing them to budget accurately for their event or project. By offering detailed quotes and avoiding hidden fees, we ensure that clients know exactly what to expect from the start. This transparency builds trust and fosters long-lasting relationships with clients, who appreciate this honesty and integrity.
We are dedicated to making your experience as seamless as possible with an intuitive online quoting system. This user-friendly platform allows customers to get all the information they need to complete their transaction online, at their convenience. Whether you're looking for a standard portable restroom or a luxury trailer, you can easily browse through the options, see detailed specifications, and get an instant quote for your event or project. This system eliminates guesswork and saves you time by providing transparent pricing and product details right at your fingertips. For those who prefer digital transactions, John To Go's online quoting system is a simple, efficient, and hassle-free way to secure your portable sanitation needs.
Variety of porta potty options
Catering to a diverse range of client needs and preferences, John To Go offers a wide variety of porta potty options. Their selection includes standard port o potty units, wheelchair-accessible units, upscale deluxe restroom units for events, and luxury restroom trailers, ensuring that every client can find a suitable solution for their event or project.
With our wide selection, we can accommodate the unique requirements of each client, and we regularly expand and update our inventory to ensure that we can meet the evolving demands of clients. In fact, we now carry enough weight with porta potty manufacturers that we can custom-build units to match our specifications.
Professional and courteous staff
We understand that the quality of our staff plays a significant role in ensuring a seamless and positive experience for clients. To this end, we pride ourselves on our experienced John to Go staff, where each and every individual is professional, well-mannered, and courteous. With an attentive team at John to Go ready to help you, we want to make sure you are the benefit of a seamless experience throughout the entire process.
Environmental responsibility
As a committed porta potty provider, we prioritize eco-friendly practices in our operations. This includes using biodegradable cleaning products and disposing of waste in a responsible manner. By actively pursuing environmentally sustainable practices, we help protect the environment for future generations.
Additionally, we continuously seek opportunities to improve our environmental practices and reduce our carbon footprint. By staying informed about the latest eco-friendly innovations in the industry and incorporating them into their operations, we set an example for others in the porta potty service industry.
Customization and flexibility
John To Go recognizes that each client's needs are unique and requires tailored solutions. To accommodate these diverse requirements, we offer customizable services and flexible scheduling, ensuring that every event or project receives the appropriate level of support. This adaptability allows us to provide personalized service and attention to detail, resulting in a superior experience for their clients.
Moreover, our flexibility extends to their ability to handle last-minute changes or requests. We understand that circumstances can change quickly, and we are prepared to adjust our services accordingly to meet the evolving needs of their clients.
In case of any issues or concerns, John To Go is dedicated to addressing and resolving them promptly. This rapid response time and commitment to customer satisfaction demonstrate dedication to maintaining a high standard of service. By prioritizing issue resolution, we ensure that our clients' needs are met and any potential problems are addressed before they escalate.
Our proactive approach to issue resolution involves regular communication with clients to identify potential concerns and address them before they become problems. This focus on open communication and collaboration helps to build strong relationships with clients, who appreciate our unwavering commitment to their satisfaction.
As a case in point, when a recent hurricane hit Fort Myers, Florida, causing widespread devastation, our crews worked through the night, providing essential emergency porta potty services to government agencies and affected residents. Despite being nearly out of equipment, we emptied our yards in New Jersey, shipping out batches of remaining equipment to meet the urgent demand. This dedication to service and commitment to addressing the issue exemplified John To Go's excellence in customer service.
In other scenarios as well, when a last-minute need arises for porta potties, one of the first emails sent are to John To Go, even if just requesting standby services. Instead of waiting for a full purchase order, we spring into action, preparing to have equipment available if needed.
Setting the Bar High: John To Go's Unwavering Commitment to Excellence in Porta Potty Services
John To Go's unrelenting dedication to providing top-notch porta potty service has earned us a stellar reputation as preferred choice for clients across a wide range of industries. Recognizing the critical nature of our services, we make it our business to consistently go above and beyond to cater to customers' needs and ensure satisfaction. By being prepared to respond to emergencies and deliver exceptional service, we've set an unparalleled standard of excellence in the porta potty industry.
Porta Potty Rentals Near You

Find out where to rent portable toilets