The History Of Porta Potty Manufacturing
When you use a porta potty at an event or jobsite, odds are good that you don't think much about the history that has gone into that technology.
Of course, in today's modern age, we have access to pretty cutting-edge porta potty tech and designs.
But this wasn't exactly how it always was.
Porta potty manufacturers and portable restroom trailer manufacturers of our modern day and age are basically capable of creating sanitary restroom facilities that are truly portable, lightweight, easy to clean, and sanitary. They don't smell bad, and they can be easily emptied and serviced when needed.
But this hasn't always been the case.
Porta potty manufacturers of olden years didn't have the advanced technology we have today. And there weren't even portable restroom trailer manufacturers until much later on!
In this post, you're going to learn some interesting port o potty history—including some interesting portable bathroom manufacturer history that you probably didn't know about before.
Before running out to make your next porta potty purchase, you may find it interesting to read up on exactly how this interesting invention has evolved throughout the ages.
The History Of The Porta Potty
As far as historians are concerned, the very first porta potties crafted by porta potty manufacturers were created in the 14th century BC, in ancient Egypt.
Of course, at this point in history, there weren't really any portable restroom trailer manufacturers yet.
In one tomb, called the Kha Tomb, a device was discovered that basically consisted of a wooden stool with a hole cut in the middle.
Attached to the stool was a vase-like implement used for catching waste.
It's believed that this device was considered a great luxury among the ancient Egyptians—hence why it was included in a Pharaoh's Tomb.
Of course, if you fast forward a bit to the 6th century BC, the chamber pot was commonly used as a portable restroom by the ancient Greeks.
This was kind of the next 'leap' in technology orchestrated by porta potty manufacturers of the times.
(Keep in mind, at this point there were still no portable restroom trailer manufacturers on the scene, because portable restroom trailers with wheels weren't really something that had been invented yet. They did, however, use 'movable outhouse sheds' with rows of 'toilet seats' situated above temporary holes in Rome.)
The 'chamber pot' device was basically a small pot that the user would relieve themselves in during the night in their bedroom.
Then, later on, the pot would be emptied into a sort of septic hole, thrown into a field, etc.
Thus, why it was considered a 'portable unit.'
These chamber pots were made from all types of different materials.
Some were crafted from ceramic or tin—but the most common ones were crafted out of clay pottery. Clay pottery was cheap and waterproof.
The reason for why they were called chamber pots is because, back in those days, people called the 'bedroom' their 'chamber.'
Modern Day Porta Potties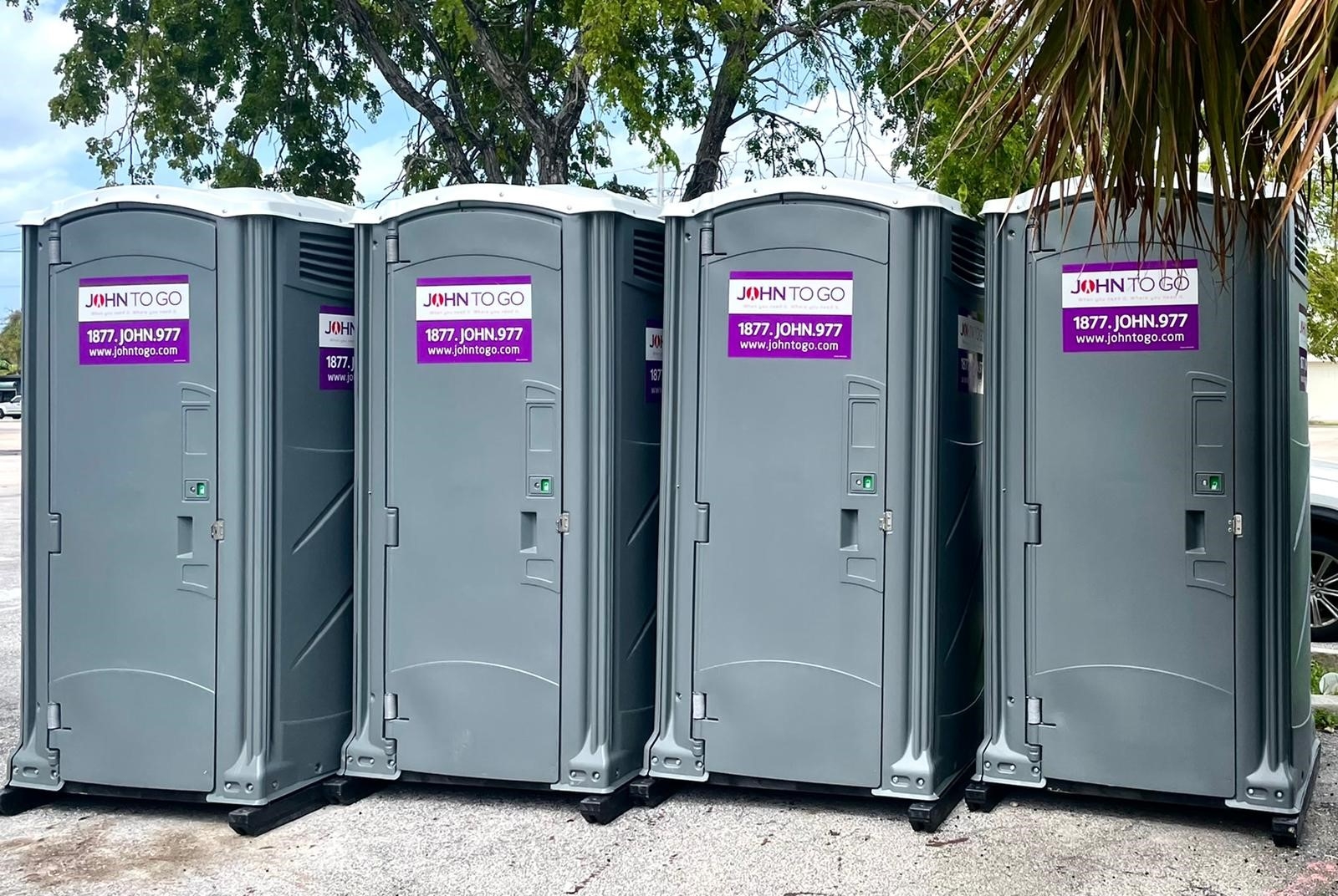 Modern-day porta-potties got their beginnings in World War II.
During the war, someone recognized how long it was taking for men working on the ships to get to the restrooms, and then back to the dock.
This was actually cutting into production time by quite a vast margin.
This man (who was an authority figure on the docks at the time) asked around to see if there was a more portable restroom option that could be placed on the ships themselves to prevent these lengthy delays as the workers relieved themselves.
This is where modern portable bathrooms really saw their first mainstream usage, and where porta potty manufacturers really took center stage.
Special portable bathroom units were then designed to help solve the problem. The units were placed along the docks, and even on the ships in the great shipyards of the Second World War in the United States so that the workers could relieve themselves and then get back to work quickly.
And the port o potty ended up working exceptionally well.
Of course, these older models were very heavy. They were made from wood and metal, and were difficult to empty.
They were also difficult to clean, and absorbed terrible odors that made them stink very soon after being used just a few times.
Over time, this porta potty design was eventually upgraded.
For example, fiberglass units were introduced by porta potty manufacturers in the 1970s, and they were definitely a step up from their metal and wood counterparts.
They were much easier to keep clean, much lighter, and easier to handle.
However, the fiberglass still absorbed odor.
Then, in the mid-1970s, the first portable toilets made from rigid plastic were created.
This really revolutionized the portable restroom industry. And by the 1980s, polyurethane porta-potties were highly popular and used in many different industries.
To this day, these polyurethane porta potties really set the tone for what modern portable restrooms look like today.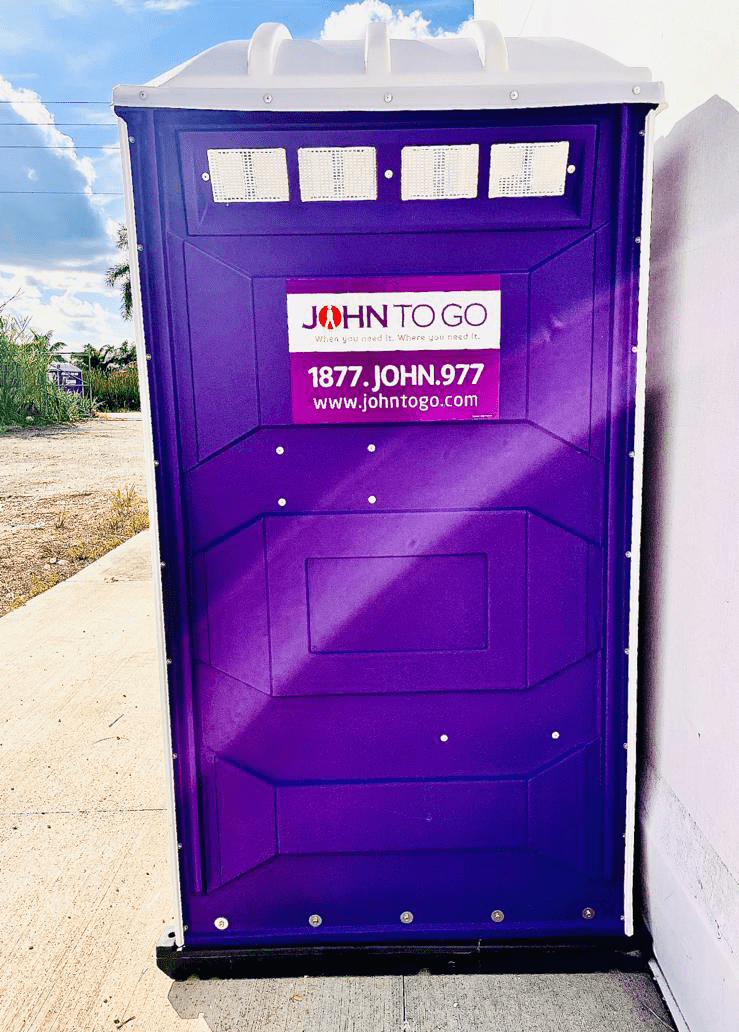 The Manufacturing Process Today
Nowadays, most porta potties are constructed from polyurethane plastic. This material is easy to clean, protects from odors, and is just in general a lot more durable than other material options.
Some porta potties, however, are also made with HDPE, which is a type of thermoplastic polymer made from petroleum.
The process for manufacturing porta potties is pretty simple.
Step 1: Plastic pellets are melted down for material.
Step 2: Colorants are added to the plastic to give it whatever color is desired.
Step 3: The plastic is sent through rollers and pressed into sheets.
Step 4: These sheets are cut to a specific length.
Step 5: These sheets are heated once again, placed into a mold, and then pressed to create the panels for the porta potty unit.
Step 6: Other smaller components, such as toilet paper dispensers, are created using CNC machines or injection molding.
Step 7: The individual pieces of the porta-potty are assembled to create the unit.
When it comes to portable restroom trailer manufacturers, those units, being more sophisticated, are obviously built more like an RV unit than a simple porta potty.
The Porta Potty Industry
A lot of people don't realize exactly how big this industry is. Porta potty manufacturers and portable restroom trailer manufacturers have truly taken the portable restroom business to new heights of success.
It's grown by leaps and bounds, even in more recent years.
The market size of the portable toilet rental industry in the United States in 2021 is $2.1 billion.
According to statistics, the market size for the portable toilet rental industry in the United States increased faster than the Advisory and Financial Services sector overall—which is actually pretty impressive.
How John To Go Provides Top-Notch Porta Potty Services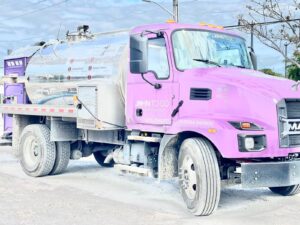 If you want to buy a porta potty, are wondering where to buy a porta potty, or are looking for portable bathroom rental prices, then you're probably getting ready to either host an event, set up a job site, or have some other need for portable outdoor bathrooms.
Well, whether you're looking for regular construction porta potties or fancy portable bathrooms, we here at John To Go have got you covered.
Take a look at our portable restroom portfolio to get a better look at the exact styles of portable bathrooms on offer.
You can also check out our restroom trailers portfolio to check out our luxurious portable restroom trailer offerings.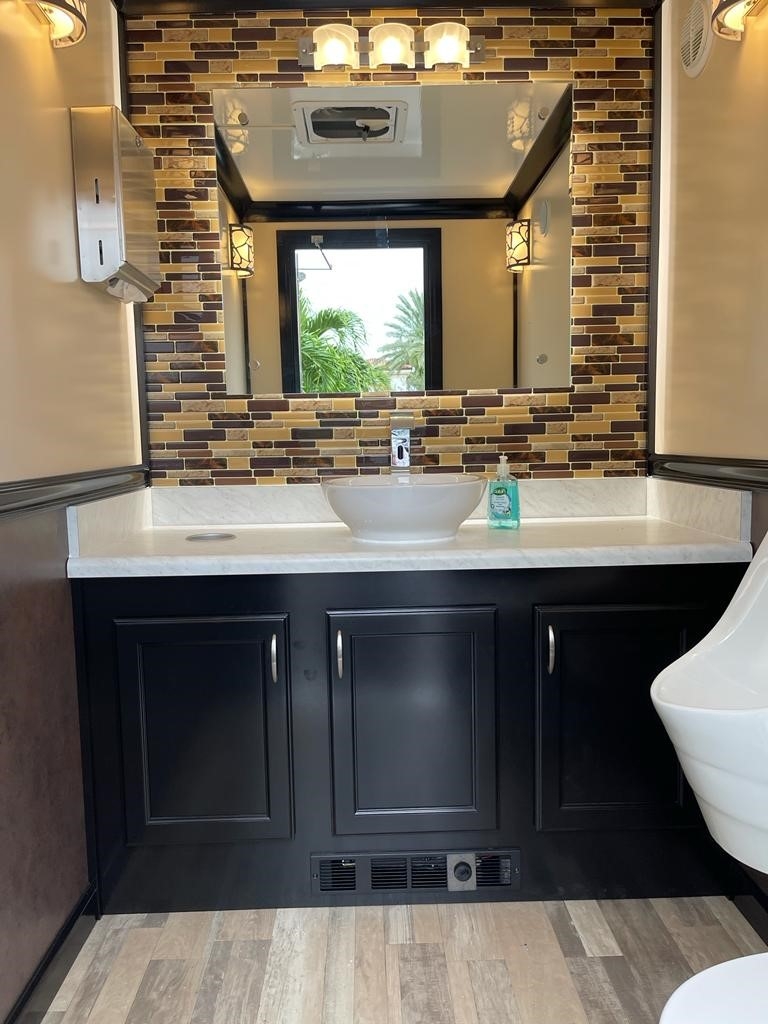 In Conclusion
There you have it.
A complete history of porta potty manufacturing.
Of course, if you ever have any questions about how we here at John To Go help our customers with their portable restroom facility needs, don't hesitate to contact us today.
We've got the equipment to ensure that your event or worksite has all of the sanitary amenities it needs to be truly successful.
FAQs
Who manufactures Porta Potties?
There are a number of different Porta Potty manufacturers who supply porta potties to companies like John To Go.
In fact, one thing we do specifically here at John To Go, to make sure that you always have the very best equipment rental options in the marketplace, is that we roll over our porta john rental equipment—from portables to trailers, from trucks to tanks—every 24 months.
This ensures that your portable restroom equipment will always be top of the line.
Is a Porta Potty business profitable?
Porta Potty businesses can be profitable.
But it depends on how well you run the business.
Here at John To Go, we've always made sure to put quality first, in every situation.
This way, our customers know that they're always investing in a high value service, with great customer support to back them up if something goes wrong.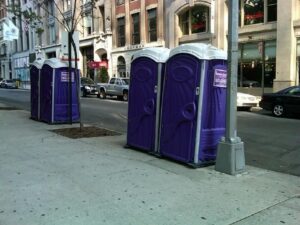 How do you assemble a portable toilet?
Portable toilet assembly always takes place before the unit is turned over to the customer.
In other words, if you rent a porta potty from John To Go, you'll never have to assemble one of these yourself!
But when we assemble them, we basically fit the pieces together and secure them using a set of tools. This requires carefully piecing the correct components together using the proper connecting hardware, and following specs to ensure that all electric and/or plumbing components are connected and functioning correctly.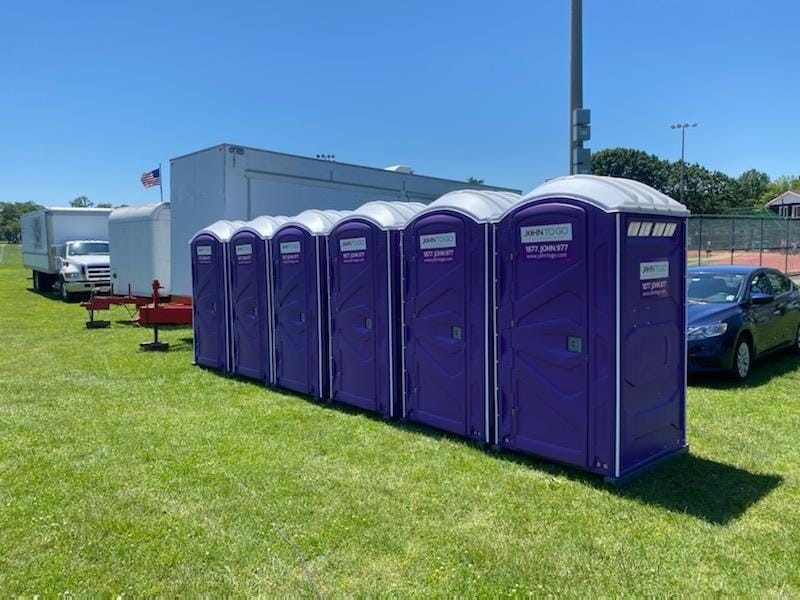 Porta Potty Rentals Near You

Find out where to rent portable toilets